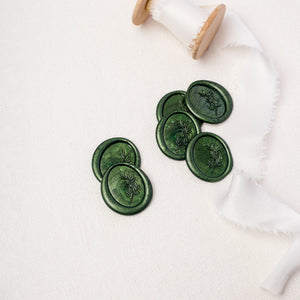 Big Hearts, Small Footprint
At Heirloom Seals, we believe in a world where doing good is simply a part of business. From the people we work with to the impact we have on the environment, our goal is kindness every step of the way. As always we want to be honest and upfront and let you know we're not perfect (just yet) but we're committed to the process of continuous improvement with our suppliers, staff and customers in tow. 
Committed to Responsible Sourcing
We care deeply for the environment and source all of our materials as locally and sustainably as possible. Our wood is sustainably forested in accordance with the European Timber Regulation (EUTR) and additionally often FSC or PEFC-certified. We use naturally-pigmented, hand-blended wax from the UK and source our brass and cotton in Europe. Even the paper we use is crafted in Italy with environmentally-friendly pulp and FSC-certified. Sustainability is a top priority for us so we are constantly monitoring our supply chain and endeavouring to do better. 
PLANTING SEEDS OF KINDNESS
To help offset carbon emissions, we plant a tree for every sale in partnership with Tree Nation. So-far we have helped reforest a gobsmacking 1.33 hectares and offset 94.58 tonnes of CO2 and we don't plan on stop anytime soon!
Supporting Ireland's Only Children's Hospice
We may be a small team here at Heirloom Seals but what we lack in size, we make up for in heart! We love to to get involved and support local initiatives and communities. We're proud to donate a portion of each sale to The LauraLynn Foundation, Ireland's only children's hospice and a cause close to our hearts. With your help, we have raised over €7,000 thus far which makes a real difference to the lives of some of Ireland's most vulnerable children. We are so grateful.
Minimising Our Collective Waste
Between the glue gun drips and imperfect impressions, we know all too well how much waste is created when making wax seals. That's why we offer a Waste Wax Recycling Programme free-of-charge to repurpose your wax scraps and help to minimise our collective waste. We match wax volume weight for weight and exchange every last drop of waste wax for fresh sticks. The returned waste wax is melted down and given a new lease of life, you get new wax to continue making beautiful wax seals and nothing goes in the bin - it's a win-win for everyone!
Being Kind to Our Planet
Wherever possible, we use recycled materials to create a number of our components including our beautifully turned wooden embosser handles made from 98% post-consumer waste. All plastic packaging has been removed as of 2021 and your purchases are now arrive in recyclable boxes finished with paper tape and paper filler, reusable cotton canvas bags or biodegradable glassine bags. 
We go the extra mile to reduce, reuse and recycle in our studio too and you'll often see us looking at our bins to make sure we disposed of everything properly! If something can't be recycled right now, we hang on to it until we can find a way to make it happen. In fact, we're so determined to find an environmentally-friendly solution for everything we do that we saved our embosser offcuts from 2017-2022 while we found a way to get them recycled!
SAVED FROM LANDFILL
In 2019 we noticed that Release Liner Paper (the backing paper from stickers and labels) was taking up approx three quarters of our landfill waste. As there were no options for recycling it at that time, we made the decision to start boxing and storing this waste whilst researching alternative potential recycling options. 3 years later we are delighted to partner with Envirogreen to recycle this waste. It was a very exciting day when we were finally able to send all of our stored liner waste to them for recycling. Good things come to those who wait!
Caring for Our People and Community
It's not just our planet we care about, but its people too. Everybody deserves to be treated with dignity and respect which is why we work hard to promote a culture of kindness and authenticity at Heirloom Seals. We try to reinforce these values in every interaction and help pay it forward for others every day.
We help foster balance and wellness at work (and beyond), offering remote working options, paid annual leave for birthdays and volunteering with their organisation of choice to give back to the communities in which we all live and work.
Our Top Tips : How You Can Make A Difference
1. Reduce, Reuse, Recycle
Take advantage of our free Waste Wax Recycling Programme, upcycle our gorgeous packaging (we recommend the drawstring pouches) for your craft collection and pop the clever paper-taped boxes straight into your cardboard recycling.
2. Commit Random Acts Of Kindness
Make a stranger's day or show someone you love how much you care. Write a thank you note, shop local, smile at a stranger, send an encouraging text or buy a gift 'just because'. These small actions add up and make our world a happier, brighter place for everyone to live!
3. Plant A Tree
Why not help save the planet while you shop? For every purchase made, we plant a tree in the Heirloom Seals Tree Nation forest at no extra cost so you can make an impact - and watch it grow!
Want more tips & tricks from the Heirloom Seals team to live more sustainably?